Compare it for Yourself!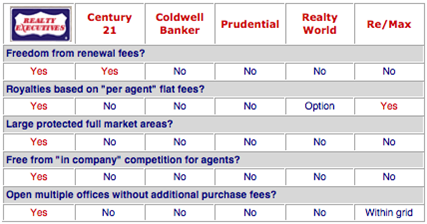 The Realty Executives Franchise
Compare for yourself our distinct differences.
Freedom from renewal Fees!
Realty Executives believes that when you purchase a franchise, you should own it, not rent it. At the end of each five-year period, you won't have a large bill sitting on your desk!
Royalties based on per-agent flat fees!
Realty Executives bases its royalties on a low per-agent fee, which is a fraction of the other franchises' fees. This enables our owners to offer agents low overheads, which in turn promotes agent recruitment and retention.
Large protected full market areas!
Realty Executives territories, by definition, are large areas capable of supporting multiple offices, unlike the small grid one-to-square-mile areas assigned by many competitors.
Fees from intra-company competition for agents.
Because of its large-territory philosophy, the likelihood of Realty Executives owners competing with each other for agents is remote. It's common occurrence in other systems.
Open multiple offices without additional purchase fees.
Realty Executives gives its owners room to grow through its large territories. Our owners can open multiple offices without having to buy new franchises.